The Yin-Yang Philosophy
A 8-lesson email course for beginners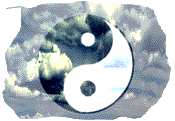 This course treats of the yin and yang symbolism in Taoism. We offer a short history of these terms, the meaning of the names, and talk about how they are dealt with in I-ching, Tao-te ching, and more (see the summary below).
The course is made of eight lessons. here they are:
1. A Short History of Yin and Yang
2. The Meaning of Names Yin and Yang
3. Yin and Yang in I-ching
4. Yin and Yang in Tao-te ching
5. Yin and Yang at Chuang-tzu
6. Yin and Yang at Lieh-tzu
7. Yin and Yang: Patterns of Interaction (PDF)
8. Yin and Yang in Real Life (PDF)
If you wish to test your acquired knowledge you may take our online quiz upon the completion of the course (not mandatory).
We send you the lessons as emails messages directly to your email address on a schedule, that is, one lesson every two days. This way you have enough time to read them.
You may request help with the topics approached during the course long. Please notice that our assistance is provided in real time, by a real person, through email
Cost:
$15

Order now
through credit card or PayPal and start reading today:
Note about delivery: Upon the payment confirmation, you'll be given a link to the page providing further information about the registration procedure. Please read and follow.

Should you need further information about our course or the payment method, please visit our

help page or contact us at support@taopage.org. We are glad to assist you.