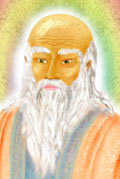 We provide email courses related to Taoism, Tao and many related topics such as meditation and the practice of emptiness.
Our courses draw from the ancient teachings of Taoist Masters such as Lao-tzu, Chuang-tzu and Lieh-tzu. A great deal of interest is shown to the Book of Changes (I-ching), which may be used as a means of predicting future events. Unlike other oracles, it gives one advice and guidance!
We deliver our courses through email as lessons (like email messages). Usually we send the lessons on schedule of one lesson every two days.
Also we offer free online support, guidance, quizzes and bonuses.
Our course are updated continuously and we send you the updates free of charge.
Just because we send our courses through email you don't have to create an online account and login to a site whenever you need to access the lessons. This is the greatest benefit of the email teachings: you receive the due lessons directly in your inbox and study at your own pace.
Moreover, our assistance is free of charge and fits your specific needs (no bots or general common answers)!
Finally, you may register right now and start within the same day! Just choose the desired course from the list below and click "learn more" to be taken to the course page. Need more help? See the student guide on the bottom of this page.