Taoism Courses - What are they?
Taoism is a way of life in accord with the Tao or the natural trends around us. This method has been described by Lao-tzu and his followers such as Chuang-tzu and Lieh-tzu. The core of the Taoism living experience is the Tao-te ching. the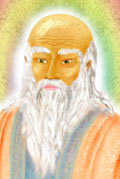 handbook of wisdom written by Lao-tzu upon the request of Yin Hsi.
The purpose of this writing is not simply talking about spirituality but teaching one the path to success and attainment no matter what the times are: of prosperity or decay.
Our courses are inspired by these sources and are intended to help people looking for a pragmatic way of dealing with the everyday challenge.
In short, we explain the basics of Taoism - Tao, yin-yang, wu, wu-wei, and more - as they appear in the Tao-te ching. You may also learn about the I-ching oracle, as a method of predicting future events. Last but not least, we give you hints on how to apply the Tao wisdom to your everyday life!
We deliver our courses through email as lessons (like email messages). Usually we send the lessons on schedule of one lesson every two days since the course registration.
Also we provide free online support and guidance should you need to know more.
Need more information? see the student guide on the bottom of this page.