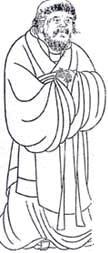 Taoism is a spiritual discipline aiming at the unity with the Tao, viewed as the principle and source of all things and beings in the universe. Based largely on the observation of natural phenomena, Taoism develops a life philosophy centered on the lucid observation of reality and the practice of nondoing.

Next, Taoism proposes a specific way of living drawn by ancient masters, namely Lao-tzu in his famous Tao-te ching. Lao-tzu is the creator of the principles of Taoism, which his disciples like Chuang-tzu or Lieh-tzu have expanded and amplified.

Taoism also proposes a practice - not just a philosophy - which is based on meditation techniques and often appeals to I-ching in order to decipher the trends of the moment and to avoid dangerous situations.

On this site we present Taoism under all its philosophical and practical aspects.

Learn Taoism Online. Should you wish to learn more about the various features of Taoism, we provide several email courses designed for beginners. You may register right now and start your study in no time. Please check the courses list

here.

Featured articles. Several articles and papers related to Taoist issues are provided as PDF. Below is the list of the new issues - also you may visit our paperstore

here. Is there any step one must take to know the Tao or rather Tao is self-evident so there's no step to take? Click here to learn more.

-> I-ching Dictionary (PDF) - Explains the main terms in plain words. Click here to learn more.

- Taoism about Death: Taoist view on death explained in few words and further resources. Click here to learn

more...

Quotes: Alan Watts on Taoism. Certain Chinese philosophers writing in, perhaps, the -5th and -4th centuries, explained ideas and a way of life that have come to be known as Taoism - the way of man's cooperation with the course or trend of the natural world... [more quotes

here].

Master Lu Sayings
---
new! What about Time?
Question: What does Taoism teach us about time?
Master Lu: Time as cosmic event or lifetime?
Q: Time as lifetime.
M L: Nothing. Taoism is not interested in time or things related to the flow of time. Time and the experience of time are part of life. They are elements of life such as breathing or nutrition. They can not be avoided nor should be avoided. Time is accepted as such no matter what we feel about it individually.
Is There a Must for One
Who Follows the Tao?
Me (Jhian): What's the most important thing in the life of one who follows the Tao?
Master: There's nothing important so there's nothing "most" important. All one can do is to receive the insight of his inner self and be ready and resolved to apply the insight to the moment.
Me: Is this readiness a must?
Master: No, it depends on the times, or the course of the things or the individual innate nature.
Me: You mean one may be lazy as well?
Master: We don't proceed on the basis of an established list of "you must" or rules. We just follow the trends. And they may require one to be lazy as well.
-> Read more...